Note: This article was originally published in K Street.
Jeff Bezos' Affair Revealed Following His Divorce
On Wednesday, January 9th, headlines began to surface about The National Enquirer intending to publish a breaking news story, detailing the real reason behind the divorce of Jeff Bezos and MacKenzie Bezos.
"The marriage of the world's richest couple is set to explode in all-out war — after billionaire Jeff Bezos was caught cheating on his wife of 25 years with the spouse of a Hollywood mogul!
The National ENQUIRER can reveal that for the past eight months, the hot-blooded founder of online retail giant Amazon has two-timed novelist wife MacKenzie Bezos with busty beauty Lauren Sanchez, whose husband, Patrick Whitesell, is one of Hollywood's most powerful talent agents.
Bezos — a self-described "family man" — has been whisking his mistress off to exotic destinations on his $65 million private jet, sending her raunchy messages and erotic selfies — including one steamy picture too explicit to print here — and having secret rendezvous at palatial private estates."
The alleged mistress is Lauren Sanchez, Emmy Award winning American news anchor, entertainment reporter, media personality, and pilot.
Texts Between Jeff Bezos and Lauren Sanchez
The National Enquirer has since released the texts between Jeff Bezos and Lauren Sanchez.
In one message obtained by The Enquirer, Bezos wrote:
"I love you, alive girl. I will show you with my body, and my lips and my eyes, very soon."
In another pillow talk exchange, on May 13, Jeff Bezos wrote:
"I want to smell you, I want to breathe you in. I want to hold you tight.… I want to kiss your lips…. I love you. I am in love with you."
Other (Creepy) Bezos Sexts Sent To Lauren Sanchez
'I miss you. I want to kiss you right now and tuck you in slowly and gently. And maybe in the morning wake you up and not be quite so gentle with you.'
'Your energy and ideas and competence and SPIRIT turn me on. You make me better. You're meant for me.'
'I am so full of love for you. My heart is growing just so it can have room for you. It's bigger than it's ever been and still swelling.'
'You know what I want? I want to get a little drunk with you tonight. Not falling down. Just a little drunk. I want to talk to you and plan with you. Listen and laugh … I basically WANT TO BE WITH YOU!!! Then I want to fall asleep with you and wake up tomorrow and read the paper with you and have coffee with you'
The revelation of the existence of the time-stamped text makes clear that the relationship between Bezos and Sanchez began long before the Bezos' public announcement of their separation.
Jeff Bezos (presumably) attempted to get ahead of the story by announcing his amicable divorce on Twitter just hours earlier: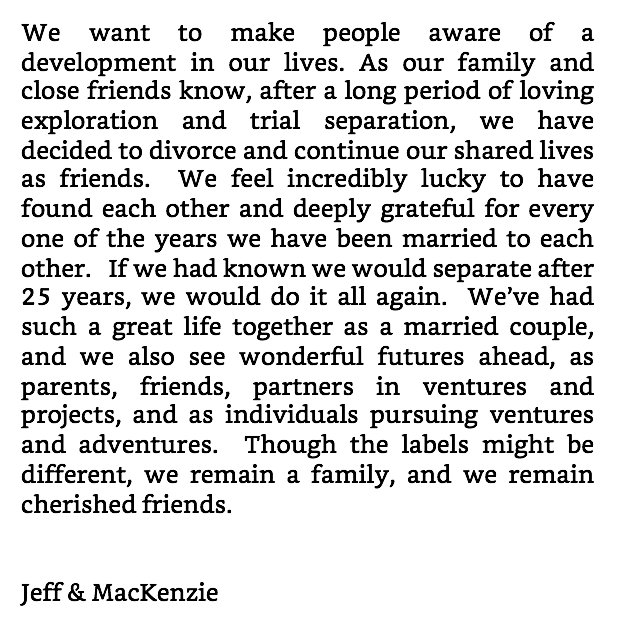 Previously Successful Public Relations and Reputation Management Strategy
Jeff Bezos, until this scandal, had done a fantastic job managing his image.
In a 2014 interview with Business Insider CEO Henry Blodget, Bezos said that doing the dishes is a part of his daily routine:
"I do the dishes every night," said Bezos, who's currently worth almost $95 billion. "I'm pretty convinced it's the sexiest thing I do," he joked.
Business Insider has published numerous articles attesting to the "work-ethic" and "family values" that guide Jeff Bezos in life. The articles were clearly the work of clever PR specialists. They attempt to establish Jeff Bezos as an "every-man" who enjoys modest luxuries such as a leisurely breakfast with his family and a doting spouse:
But until 2013, MacKenzie still drove their four kids to school and then dropped Jeff off at work in their Honda. A family friend, Danny Hillis, told Vogue that the Bezoses "are such a normal, close-knit family, it's almost abnormal."
Another source close to the family commented:
The family also adheres to a fairly normal routine, reportedly starting the day with a healthy breakfast. To spend more time with his family, Jeff never schedules early-morning meetings at Amazon.
They're so in tune that Jeff will often buy clothes for MacKenzie on the fly, he told Vogue. "Sometimes I call her and say, 'What's your such-and-such size?' and she says, 'Why?' and I say, 'None of your business!' It delights her."
Misdirection
The PR was presumably utilized to help direct attention away from Amazon's many questionable practices, including:
Abusive treatment of all blue collar and white collar workers
Dangerous and unsafe factory conditions
Anti-competitive or monopolistic behavior
Tax avoidance
Price discrimination toward consumers
However, as the National Enquirer investigation releases more information, and major news outlets begin covering the story — it will be difficult to manage the PR fallout.
Americans love watching the wealthy fail and reading the details of sordid extramarital affairs. Jeff Bezos had seemingly manged to circumvent the former, a feat few robber barons have succeeded in doing. However, like many people of great success, wealth, and power, he apparently could not resist the latter.
While Amazon will still likely succeed in the long run, this may mark the beginning of the unraveling of Jeff Bezo's carefully crafted persona.
Sara Holden is a reporter for Valley Post Express. After graduating from American River College, Sara got an internship at NPR and worked as a beat reporter for the Los Angeles Kings. Sara was also was a columnist for the Huff Post. Sara mostly covers entertainment and community events in the Valley Post Express.